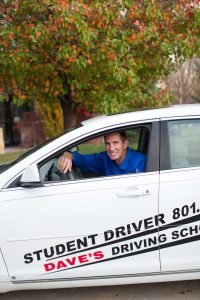 Dave's Driving School
believes
"you deserve the BEST!" 
I'm bringing you the very
BEST
in student driver's education
!
I know what it takes to become a
safe, defensive,
and
responsible
driver. I'm going the
extra
mile
to ensure it, and I
guarantee
your satisfaction.  I have over
30 years
of experience. I'm
certified, licensed
 and Driver License Division
(DLD) approved
.  I'm also a third party, private 
road examiner
for the state of Utah. (See Road Testing Tab) I can get your driving requirements done in as little as
4 days
if necessary! I can only drive you 2 hours per day and I drive every day, but Sundays. I will drive you around your schedule and I drive as early as 6:00 a.m. and as late as 8:00 p.m. if necessary. I give you
 twice
as much
driving time
as the high schools do and therefore there isn't any
"range driving"
required. (driving in a parking lot) Anyone
15 years
of age or older can get a learner's permit and start an
online course
from your home at your convenience.  I suggest that you do the driving with me at the same time you take the online class because I can help answer any questions while we are driving. Grab a friend and let's
get started! 
(See the tab, 9 steps to getting your license) I have a home study course that can be done quickly. Many questions can be answered while students are driving. The cost is $70.
The cost
of driving the required 6 hours with me is
$300
.  This includes picking up and dropping off if necessary.  This also includes time driving on the
freeway
and a
practice road examination.
I want to make this process as
simple
and
painless
as possible for you. My goal is to help you get your driver's license
promptly
without compromising
quality
.  This year marks my 10th year as a private driver's education teacher, and 
I love it!  
Private lessons are
$60
per hour for non-high school students and well worth it if you need help passing your road exam.  (See the Road Test tab)  I have a
99% pass
rate and
great reviews!
If you have any
questions
or need a
road test appointment
, please
text me
.
"You deserve the BEST!"
Please watch my 8-minute video,
Dave's Driving Test
before taking your driving test.
Dave McConnell: 801.602.6065
(Text anytime between 8:00 a.m. and 8:00 p.m.) You might enjoy seeing our adventures in driving!  Follow me on
Instagram: Daves_driving