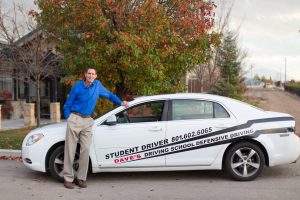 Dave's Driving School
offers 
road driving
with personal instruction for
$300
and it's well worth it. Just ask anyone that has driven with me. (see the reference tab and reviews)  I will pick you up from your house or from your school if necessary and drop you back off. We offer
testing,
although we cannot test our own students. I accept
Venmo
(Dave or Lisa McConnell @davesdriversed), cash, credit cards or checks.  There is a $10 processing fee for credit cards.  I prefer that payment is done before or at the start of the first drive, however, if necessary we can work out other arrangements if done ahead of time. I recommend a home study book to be completed while I work with you. I am happy to answer and explain anything that is unclear. I will provide the book for you and give it to you on the first drive. The book can be easily finished in a few days. The cost is $70. A 50 question quiz is given following the completion of the book. If you have already started a different online course, no problem. I can still drive with you and answer any questions you may have. The course does not have to be finished before you drive. While driving you, I can help you with your online lessons, discuss vital information on safety and defensive driving skills to ensure your success on the road. You will be receiving
vital information
not only online but also during the road driving time. Most questions are answered on this website. Text
Dave McConnell
at
801.602.6065
 to set up an appointment. The choice is yours – drive 3 times for 2 hours or drive 4 times for 1.5 hours.
Fast track
service is available: start and finish in ten days.
An additional fee of $50 applies for the fast track
. These drives can be scheduled at any time between 6:00 a.m. and 8:00 p.m. We drive
Monday through Saturday. Please text me with a day and time that works for you
. Drive times are customized to fit your needs and busy schedules. Don't wait to
get started.
  You don't need any drive time with your parents before you start with me.  I have my own brake and it's safer for me to drive you first.  You can start the day you get your Learner's Permit. Besides the
6 hours
I drive with you, you will need 34 hours of driving with your parents or legal guardian.  You don't have to drive on the
"range"
(parking lot) because you get twice as much road time as the high school students when you drive with me. This is a
HUGE
advantage because there is no substitute for actual road driving
experience
. You must pass a 15-minute
road exam
given by the DLD (Driver License Division) or a private, 3rd party tester. My company cannot test its own students. (See the Road Test tab)  I can recommend some private testers if you would like to use one. Most of them charge around $45 and they do not have a waiting list, unlike the DLD. Click on the
road test tab
to see the requirements. Be sure to watch my instructive
8-minute video.
I'm excited to help you learn to drive.  With the help of your parents, I can help teach you to drive
safely and defensively
. Text me at
801-602-6065
to set up your appointment!
Dave McConnell
(owner)
"YOU DESERVE THE BEST"
You might enjoy seeing the adventures in driving!  Follow me on
Instagram: Daves_driving